Between 1st April and 30th September
Burials may take place 9.00am to 3.00pm Monday to Thursday and 9.00am to 2.00pm on a Friday.
Interment of Ashes may take place 9.00am to 3.30pm Monday to Thursday and 9.00am to 2.30 pm on a Friday.
Between 1st October and 31st March
Burials may take place 9.00am to 2.30pm Monday to Thursday and 9.00am to 1.30pm on a Friday.
Interment of Ashes may take place 9.00am to 3.30pm Monday to Thursday and 9.00am to 2.30 pm on a Friday.
Chapel at Quantock Road Cemetery
The chapel is available for services, it seats 40 and there is an organ available (you will need to provide the organist)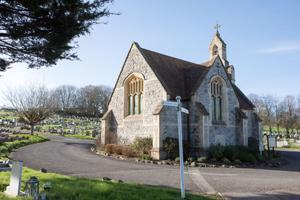 A completed notice of interment is required for each interment and this must be received at least 3 working days before. This notice sets out all the information required by the cemetery for completion of the burial records and also for the preparation of the grave. Sometimes it includes an application for a grave purchase, too. In addition the registration document (green form), or a Coroners form (white form), or the certificate of disposal. Please note that an interment cannot proceed without the above documentation.
Funerals without a funeral director
If families choose not to use a funeral director to make the burial arrangements, the staff of the crematorium and cemetery office will be happy to help them.
Lawn Section – this section offers a more tranquil contemporary location where you are only allowed a headstone and no items are to be placed on the length of the grave. They look neat and are easily accessed.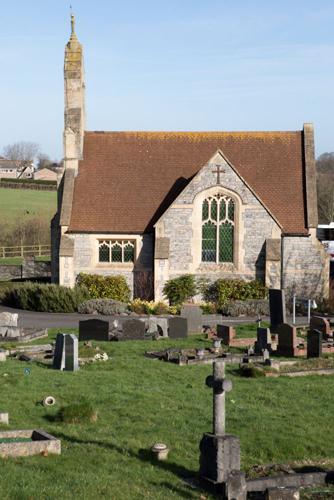 Traditional Section – this section offers more choice with regard to memorials and kerb sets and ledgers are permitted.
Garden of Rest – this section if for cremated remains. Up to 3 caskets may be buried in each grave space.
Children's area – this section can accommodate a coffin size up to 3ft by 2ft. There is an area for burial and another for cremated remains and a baby under 24 weeks gestation.
Muslim burials (Bristol Road Cemetery only) – this section has been set aside for Muslim burials and both headstones and kerb sets are allowed in this section.
Re-open an existing grave – if the deceased is the owner of the Exclusive Right of Burial then they have the automatic right to be buried in that grave. If the owner of the Exclusive Right of Burial is already dead then a transfer of the Exclusive Right of Burial is required before an interment can take place. Please contact the Cemeteries Administrator for more information.
In both Cemeteries graves may be dug to 2 depths:
6ft which allows for 2 burials in the grave
4ft 6ins which is a single grave
And in some circumstances 7ft to accommodate 3 burials, but this is not possible in all burial areas
When a grave is purchased the purchaser is not, in fact, buying the land the grave occupies, but rather is purchasing the right to be buried there, or to say who else may be buried there. This is called purchasing the Exclusive Right of Burial. Right may be purchased for a set number of years. In Bridgwater the rights may be purchased for 50 years. At the end of the period the right may be renewed for a further period.
When the purchase is made a grave Deed is issued by the burial authority. This is a contract between the burial authority and the grave owner.
It is not necessary to purchase a grave in order to arrange a burial, but your choices will be much more limited if you don't.
Bridgwater Town Council no longer allows reservations of grave spaces, and cremation plots.
Exhumations may occur for a number of reasons, including:
Movement from the original grave to another at the request of the family.
Repatriation of the body overseas.
Transfer from a cemetery scheduled for re-development.
As a result of a court order because forensic examination of the body is required.
Exhumation is a serious and expensive process, and should not be undertaken without a lot of thought. The legal process requires that the whole family agree that exhumation is the right choice.
It is an offence to exhume any human remains without first obtaining the necessary lawful permissions. Funeral Directors, in connection with the burial authority, will help in obtaining these.
If the body is buried in un-consecrated ground a licence must be obtained from the Home Office. The exhumation licence will set out the conditions that have to be observed.
If the body is buried in consecrated ground, permission from the church authorities (a faculty) must be obtained.
If the body is to be reburied in consecrated ground, a faculty must be obtained.
Usually the exhumation will take place early in the morning, while the cemetery is still closed to the public. The area in which the exhumation takes place should be screened off, in order to maintain the dignity of the deceased, and to preserve public decency. In order to ensure that public safety and decency are preserved throughout the exhumation process, an Environmental Health Officer must be present. If the conditions of the licence cannot be met, or there are public health or decency concerns, the exhumation may not proceed.