opens IMAGE file It wasn't only the Bridgwater castle which opens in a new windowWilliam Brewer left as a legacy. Apart from an abbey at Dunkeswell and a castle at Torquay, in 1216 he built the hospital of St John the Baptist in Bridgwater. This was an Augustine Priory which served the needs of pilgrims but was closed to lunatics, lepers, epileptics, pregnant women, breast-feeding mothers and those with contagious diseases, no matter how sick or destitute. The rich and the powerful were also barred from taking lodging, entertainment or allowing their horses to feed there. Its main function was to provide food and lodgings for travellers, care for the sick and educate the young of the poor of the town.
It was a self-governing establishment with its master being elected from within its own brethren. Their attire was that of the common hospitallers with the exception that they sported a large black cross on their mantles and outer garments. This distinguished them from the Franciscan friars who were set up at the other side of the town. Part of their role was to provide someone to serve the opens in a new windowchurch of St. Mary's and another to serve on a daily basis at the services in the castle chapel. Three women "of good fame" lived in the priory in order to attend the sick and infirm.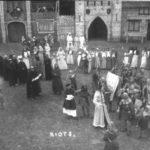 opens IMAGE file Based just outside the east gate, its position today would be at the start of Broadway by the entrance to Eastover. Within the grounds there
was the 112 foot long St. Katharine's church, an infirmary, rectory, dormitory, chapter house, cloister, parlour and a school, the first for Bridgwater. A herb and vegetable garden, a fish-pond for Friday dinners, and a graveyard completed the picture. In 1286, a licence was granted for a channel to be cut down to the river in order to clear waste from the privies. This was three feet wide and of sufficient depth to allow the river to run all the way in. It was then covered over, presumably with timbers, such that earth and stone could be placed on top to allow those whose land it passed through to pass across it unhindered. A track ran from the hospital up to the Polden Hills, known as the Long Causeway, and this followed the line of Monmouth Street and Bath Road to Crandon Bridge, locally known as the Silver Fish. This may well have been a significant link to a priory which was once based at Horsey.
Text Copyright © 2008 Roger Evans