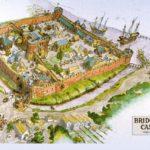 opens IMAGE file Let's wind the clock back to 1065 AD and take a look at Bridgwater. There is no bridge, just a few simple houses lie scattered around on the higher ground at Hamp, Durleigh and Wembdon. And there, where we are used to seeing St Mary's Church is a little timber and thatched Saxon church. William the Conqueror has yet to reach our shores.
It's 600 years since the Romans went home and for 600 years, this area alongside the River Parrett has experienced the Dark Ages. But nothing ever happens here. It's not that kind of place. Down at Combwich there was a battle between the Anglo-Saxons and the Danes, and the Celts and the Anglo-Saxons have been clashing all over the place. The Romans once had forts over at Puriton and at Cannington. More recently though, King Alfred passed by a couple of times but didn't stop. There was no reason. Nothing ever happened in Bridgwater – but that was all to change.
Bridgwater was insignificant, without even a bridge across the river. Ships sailing up the River Parrett simply passed by, just the occasional ones mooring up at the riverside, perhaps to unload goods but probably just waiting for the next tide to continue their journey upstream. The place wasn't even called Bridgwater, it was simply called "The Quayside", but it was called that in Anglo-Saxon, Bryj. And folks had lived there for generations, mostly on the west side of the river, on the higher ground.
Text Copyright © 2008 Roger Evans