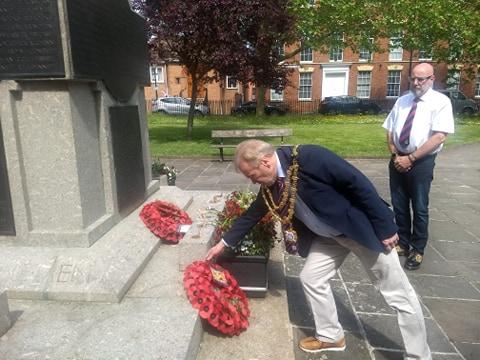 In a low key ceremony following Government instructions to avoid large gatherings, Mayor of Bridgwater , Cllr Tony Heywood, walked the short distance from his King Square home, where he has been socially isolating due to his age, to join Deputy Mayor Cllr Leigh Redman at noon today to lay a wreath on behalf of the Town Council at the town's cenotaph to mark the 75th Anniversary of VE Day.
Cllr Heywood said "We pay tribute to those who sacrificed their lives and to those who served and returned, and many of these last surviving veterans are now in care homes. We must do everything we can to to protect and care for them during the current crisis. But this is also a time for celebration, not just to celebrate their memory and their achievement but to focus on what was a victory in a great fight for a better future. "
VE Day marked the end of the second world war in Europe with the unconditional surrender of Nazi Germany's armed forces. On May 8th 1945 this fell on a Tuesday with the formally laying down of arms at 11.01pm. Although VE Day marked the end of the war in Europe, British and Allied forces continued to fight in the Far East against the Empire of Japan until the surrender of that country on August 15th (VJ Day).
The war memorial in Kings Square was erected in 1924 after the First World War and lists the names of Bridgwater people who died in that conflict, the Second World War and subsequent wars including Korea and the Falklands.